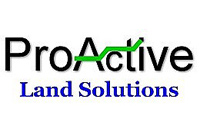 ProActive Land Solutions
www.proactiveland.com
R. Bradford Sutherlin, Jr. - Partner (50%)bradford@proactiveland.com
Jim Dennard - Partner (50%)
jim@proactiveland.com
At Proactive Land Solutions, we measure our success by the clients that we have retained. Totaland is an integral part of our business strategy to maximize efficiency, reduce cost, and accomplish our client's objectives on time and within budget.
---
Founding: Prior to forming Proactive Land Solutions in 2010, Bradford and Jim worked as project managers at a land services firm in Louisiana, guiding various Exploration and Right Way projects from kick-off to completion. Bradford and Jim frequently discussed the unique challenges of each project, finding efficient solutions and developing a mutual respect for each other's judgment and problem solving approach.

Services: We have successfully handled Lease Checks, Seismic Permitting Projects, Lease Option Acquisition, Title Research (Patent to Present Abstracts and Cursory Searches), Leasing Projects, Due Diligence, and provided the corresponding GIS mapping and data services.

Client Satisfaction: We have delivered all services on time and within budget, and would appreciate the opportunity to provide references of satisfied clients and discuss upcoming opportunities to assist with the next successful project.