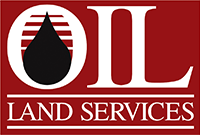 Oil Land Services, Inc
www.oillandservices.com
John G. Miller, CPL, President
(337) 233-4156
515B Verot School Road
Lafayette, LA 70508
PO Box 51242
Lafayette, LA 70505


Oil Land Services, Inc. provides a full range of high quality, timely and professional land services nationwide. Since 1977, clients of all sizes have entrusted projects large and small to our expertise. Our mission is to provide a superior land experience.
---
Utilizing highly qualified professionals and state-of-the-art tools, including web-based land solutions, we offer a full range of professional land services for all types of land related projects, including:

Oil, Gas and Mineral Leases and Options
Oyster Leases
Easements and Rights-of-Way
Surface and Subsurface Leases
3-D Seismic Permits
Abstracts
Damage Settlements and Releases
Document Digitizing and Management
Due Diligence
Expert Witness Testimony
Federal Lands and Offshore
Land and Lease Records
Lease Checks
Mapping
Mineral Histories
Presentation Expertise
Servitudes
State Lands and Offshore Nominations and Leasing
Surface, Mineral and Lease Ownership Determinations
Title Curative
Title Research
Unitization
Well, Unit and Production Research
...and more!
.....
Contact us for your next land project, you will be very satisfied...guaranteed!